سرور HPE ProLiant ML10 Gen9
نسل جدید سرور های HPE ML10
سرورهای کامل دل با طراحی فوق العاده قوی و قدرتمند، مناسب جهت شرکت های کوچک و متوسط می‌باشند. در این سرورها از جدیدترین تکنولوژی‌های روز دنیا در زمینه‌ی سخت افزاری و نرم افزاری استفاده شده است، و قابلیت‌های بی‌نظیری از جمله پشتیبانی از سیستم‌های مجازی سازی و همچنین مدیریت از راه دور به صورت مستقیم روی کنسول بایوس و… را دارا می باشد.
---
New HPE ProLiant ML10 Gen9 low cost tower servers
The new HPE ML10 Gen9 mini tower servers are meant to be small and affordable often selling in the $300-500 range. The new HPE ML10 Gen9 starts at around $299 making it extremely affordable. It uses Intel's newest Skylake generation processors including the Intel Pentium (low cost), Intel Core i3 (slightly higher cost but lower spec) or Intel Xeon E3-1200 V5 parts (higher-end in the platform). The ML10 series has been popular as low price office servers as the performance is generally acceptable for many applications like small office file and network service servers.
One can also see the servers have been updated with the new HPE branding after HP split into two entities last year.
HPE is the enterprise division and the HPE ML10 Gen9 is probably the lowest end ProLiant server there is. As we have seen a number of E3-1200 V5 platforms released over the past few months.
We see the HPE ProLiant ML10 Gen9 system as a server targeted at the SMB market, likely those companies that are looking to use Microsoft Office365 and Azure but also want some power locally for things such as PC backups or local network services.
Key HPE ML10 Gen9 System features
You can see specs on the new HPE ML10 here. Here are the key specs:
Processor: Single Processor Intel Xeon E3-1200 v5 product family; Intel Pentium; Intel Core i3 (2 or 4 cores)
Form Factor: 4U
Maxumum Memory: 64GB
Memory slots: 4x DDR4 DIMM slots
Memory type: DDR4 UDIMM
Storage: (6) LFF SATA non-hot plug
Networking: Intel Ethernet Connection I219-LM 1 Ports per controller
Intel AMT Support: Yes
The network controller likely uses the MAC from the Intel platform. The overall platform seems to be a low cost Intel C23x platform which makes sense given the price point.
---
فروش سرور HP ML10 v2 1220v3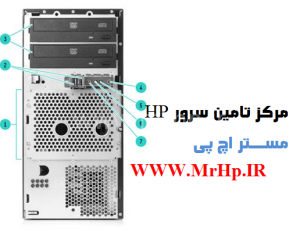 فروش سرور HP ML10 v2 1220v3
Overview
Are you looking for a standalone server that is both affordable and flexible for your small business? The HP ProLiant ML10 v2 Server is a single-socket 4U tower server, delivering excellent value that small businesses require to run a small network environment. It provides entry-level businesses with an affordable server that can be used as a standalone tower configuration. It is outstanding for businesses looking for a server with low acquisition cost, increased connectivity slots for storage and networking, optimized compute with built-in reliability, and agile management.
Do you have non-mission critical applications that require economical high capacity and reliability hard disk drives? HP SATA Hard Drives are built for reliability and larger capacity needs for today's non-mission critical server applications and storage environments. These high-capacity drives provide the lowest $/GB, and the best price advantage for non-mission critical applications with low workloads of 40% or less. HP SATA Hard Drives are available in both Large Form Factor (LFF) (3.5-inch) and Small Form Factor (SFF) (2.5-inch) and ship with a standard one year warranty. All HP hard drives pass a rigorous qualification process, which certify that every HP drive is proven to perform in your HP ProLiant Server environments. Before final certification, all HP SATA Hard Drives are optimized for compatibility and functionality, including support of SMART and HP Systems Insight Manager.
Is finding reliable DRAM memory for your HP ProLiant Server series in your data center a major challenge? When you choose HP SmartMemory you get the same high quality, reliability, and confidence that come with your HP ProLiant Gen8 Server series. DRAM quality and reliability are more important now than ever. Industry trends such as server virtualization, cloud computing, the use of large database applications, and high-performance computing have all increased the need for higher capacity memory with greater reliability and uptime. HP SmartMemory is a unique technology introduced for ProLiant Gen8 Servers that unlocks certain features available only with HP Qualified Server memory. HP SmartMemory enables ProLiant Gen8 systems to reliably identify and verify whether installed memory has passed the rigorous HP qualification and testing processes. And because the memory is authenticated, you can enable extended memory performance features through the system ROM.Not all features are available in all editions or versions of Windows. Systems may require upgraded
---
HPE ProLiant ML10 v2 Server
---
چه هارد هایی برای سرور های اچ پی باید انتخاب بکنم؟و این انتخاب بر روی سرور اچ پی چه تاثیری میگذارد؟

چه هارد هایی برای سرور های اچ پی باید انتخاب بکنم؟و این انتخاب بر روی سرور اچ پی چه تاثیری میگذارد؟
یکی از مهمترین عواملی که در هنگام خرید یک سرور باید به ان دقت داشته باشید مقدار نیارمندی شما به هارد وفضای ذخیره سازی میباشد ایادر مورد انتخاب سرور خود فضای ذخیره سازی مهم میباشد.وباید به ان دقت داشته باشیم:سرور